SAN DIEGO – During her third year in the combined Harvard/Massachusetts General Hospital dermatology residency program in 2011, Lilit Garibyan, MD, PhD, attended a lecture presented by R. Rox Anderson, MD, director of the Wellman Center for Photomedicine at MGH. He described the concept of selective cryolipolysis – the method of removing fat by topical cooling that eventually led to the method CoolSculpting device.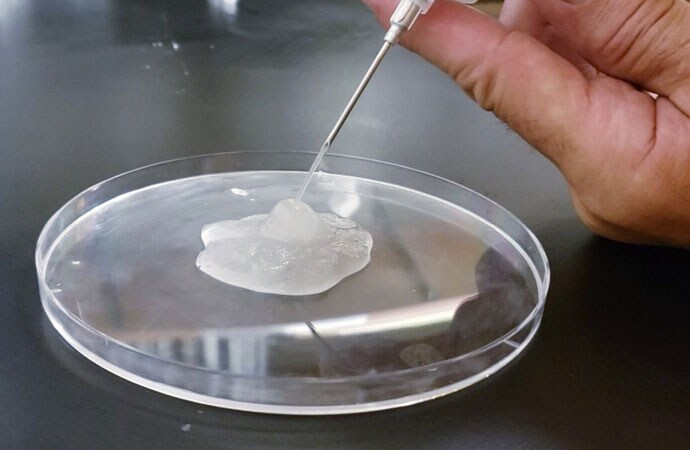 Ice slurry – a novel, chilly mix of ice, saline, and glycol – can be directly injected into adipose tissue.
"He was saying that this is such a great noninvasive technology for fat removal and that patients love it," Garibyan recalled at the annual meeting of the American Society for Laser Medicine and Surgery. "But one of the most common side effects after cryolipolysis that is long-lasting, but completely reversible, is hypoesthesia. I was intrigued by this because even as a dermatology resident, I had seen how pain and itch symptoms are present in many dermatologic diseases, and we don't have great treatments for them. I thought to myself, if we can figure out the mechanism of how this topical cooling is affecting the nerves for such a long time, then maybe we could develop therapies where we could selectively target just the nerves," not the fat.
Following Anderson's lecture, Garibyan asked him if anyone knew the mechanism of action or if anyone was working to find out. He did not, but Anderson invited her to join his lab to investigate. "I didn't have a background in lasers or energy devices, but I thought this was such a great opportunity" and addressed an unmet need, she said at the meeting.
Garibyan then led a clinical trial to characterize the effect of a single cryolipolysis treatment in 11 healthy people and to quantitatively analyze what sensory functions change with treatment over a period of 56 days. Skin biopsies revealed that cryolipolysis mainly decreased myelinated dermal nerve fiber density, which persisted throughout the study.
"The conclusion was that yes, controlled topical cooling does lead to significant and long-lasting but reversible reduction of sensory function, including pain," said Garibyan, who is now an assistant professor of dermatology at Harvard Medical School, Boston, and director of the Magic Wand Initiative at the Wellman Center.
Ice Slurry Injections
Enter ice slurry, a chilly mix of ice, saline, and glycol that can be directly injected into adipose tissue. In a swine study published online in January 2020, Garibyan and colleagues at the Wellman Center injected ice slurry into the flanks of swine and followed them for up to 8 weeks, using ultrasound imaging to quantify and show the location of fat loss. The researchers observed about 40%-50% loss of fat in the treated area, compared with a 60% increase of fat in controls. "On histology, this was very selective," she said. "Only adipose tissue was affected. There was no damage to the underlying muscle or to the dermis or epidermis."
In 2021, researchers tested the injection of ice slurry in 12 humans for the first time, injected into tissue, and followed them for 12 weeks. As observed by thermal imaging, ultrasound, and tissue histology, they concluded that ice slurry injection was feasible and safe as a way of inducing cryolipolysis, and was well tolerated by patients.
"This can become a promising treatment for a precise, effective, and customizable way of removing unwanted fat for aesthetic application," Garibyan said. However, she added, it is not approved by the Food and Drug Administration and more studies are needed, "but it's promising and encouraging to see this move forward in patients."
Potential Nonaesthetic Uses
The potential applications of injectable ice slurry extend well beyond cosmetic dermatology, she continued, noting that it is being explored as a treatment for many medical conditions including obstructive sleep apnea (OSA). At the University of Pennsylvania, Philadelphia, researchers used MRI to image the tongue fat in a case-control study of 31 obese patients without OSA and 90 obese patients with OSA. They found that patients with OSA had increased deposition of fat at the base of their tongue, which can lead to airway obstruction in this subset of patients with OSA, pointed out Garibyan, who was not involved with the study. "This also gave us a hint. If we can remove that tongue fat, we could potentially help reduce severity or even cure OSA in this population of patients. This points to tongue fat as a therapeutic target."
With help from researchers at Uniformed Services University of the Health Sciences, Bethesda, Md., she and her Wellman Center colleagues recently completed a swine study that showed the safety and feasibility of injecting the base of the tongue with ice slurry, targeting adipose tissue. The work has been submitted for publication in a journal, but at the meeting, she said that, 8 weeks after injecting the ice slurry, there were no changes to any tongue tissue other than fat.
"On histology, we only see selective damage to the adipose tissue," she said. "It is very promising that it's safe in animal models and we're hoping to conduct a human trial later this year to test the ability of this injectable ice slurry to remove fat at the base of the tongue with the hope that this will treat OSA."
Another potential application of this technology is in the cardiology field. Garibyan is part of a multidisciplinary team at MGH that includes cardiac surgeons, cardiologists, and imaging experts who plan to investigate whether injecting ice slurry into fat around the heart can modify heart disease in humans. "Visceral fat around the heart – pericardial fat and epicardial fat – is involved in cardiovascular disease, arrhythmias, and many other unwanted effects on the heart," she said. "Imagine if you could inject this around the heart, ablate the fat, and halt cardiovascular disease?"
She led a study that examined the effect of injecting ice slurry into swine with significant amounts of adipose tissue around their hearts, based on baseline CT scans. She and her coinvestigators observed a significant loss of that fat tissue on follow-up CT scans 8 weeks later. "On average, there was about a 30% reduction of this pericardial adipose tissue after a single injection," and the procedure "was safe and well tolerated by the animals," she added.
Ice slurry could also play a role in managing pain by targeting peripheral nerves. Peripheral nerves are composed of 75%-80% lipids, such as the myelin sheaths around the nerves, she noted. "That's lipid-rich tissue. We think that by targeting that we're able to block pain."
She led a study that showed that a single injection of ice slurry around the sciatic nerve in rats served as a sustained anesthetic by blocking mechanical pain sensation for up to 56 days. They imaged the peripheral nerves in the rats and showed that the mechanism involved was loss of the lipid-rich myelin tissue around the nerves, which blocks the signaling of the nerve, she said.
Garibyan disclosed that she is a member of the advisory board for Brixton Biosciences, Vyome Therapeutics, and Aegle Therapeutics. She is also a consultant for Aegle Therapeutics and Blossom Innovations and holds equity in Brixton Biosciences and EyeCool Therapeutics.
This article originally appeared on MDedge.com, part of the Medscape Professional Network.
Source: Read Full Article